City Mom..
Over the past two years, my family and I have found little ways to help include the memory of Ethan in things we do as a family. As a bereaved parent, I very much understand how important this is, especially when it comes to your child's birthday. For our family, a few small things really helped to ease our hearts on that particularly hard day; a day where our loss and pain only seemed to be magnified even more.

For what would have been Ethan's first birthday, we invited family and very close friends over for a gathering. In lieu of gifts, our family brought new books to donate to the Children's Hospital in Ethan's memory. We also held a family baseball game (this idea came about because we enjoyed watching baseball together as a family for the short time Ethan was here). We had t-shirts made for everyone of our favorite team with the number 1, as well as little keepsake baseball cards of Ethan with a poem on the back that I wrote to honor his day. We did have cake, but rather than sing "happy birthday", my husband and I said a little something beforehand, thanking our guests for coming and allowing us to fill what would have been Ethan's first birthday with wonderful family memories in his honor. We decorated Ethan's grave, and also brought out balloons.

Overall, my husband and I felt that the day turned out beautiful, and as best as it could have possibly been without Ethan here. Also, because Ethan was blessed with lots of very small cousins, the book donation allowed them to feel as if they were contributing in a special way too to help share Ethan's memory. Below are a few photos from our day.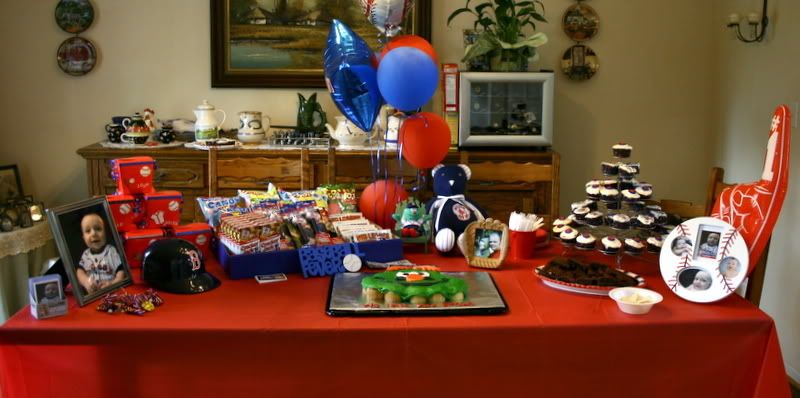 The Red
Sox
bear sitting on the table was made from one of Ethan's baby blankets.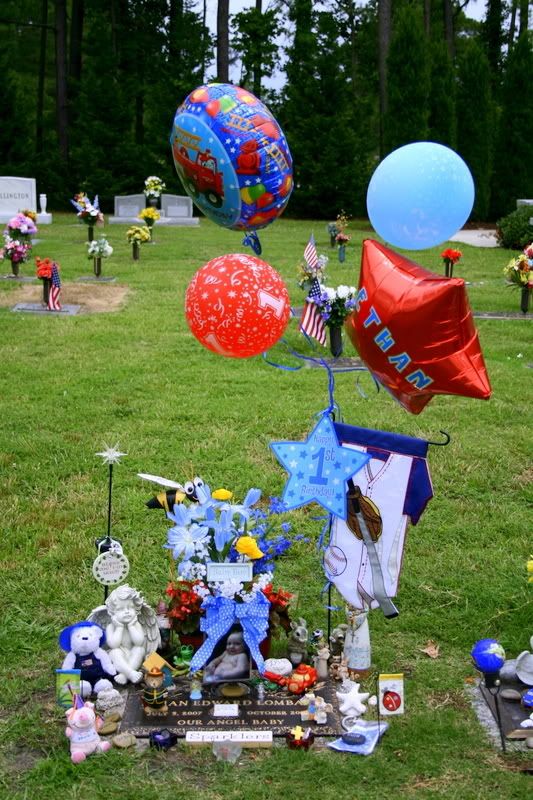 Decorations at Ethan's spot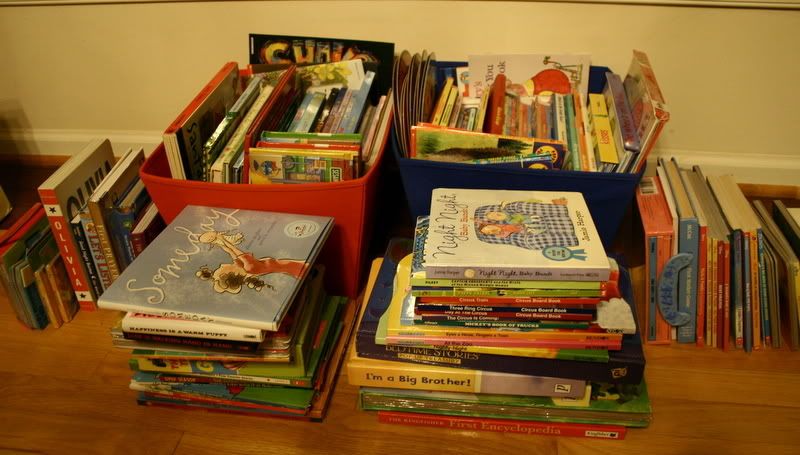 Some of the books we collected to donate in Ethan's memory
If you'd like to see more photos from our celebration, you can Ethan's Memorial Site by clicking
here
.

Country Mom...
Did you read Wendi's story above? It's beautiful(!) and she is one of the strongest people I have ever met- which is why I love that girl. She handled E's first birthday with grace. I, unfortunately, tried and failed. But everyone handles grief and different anniversaries in diverse ways. This is the story of Lila's first birthday...
November 7

th

of '08 would have been Lila's first birthday. My husband and I discussed different ways we could celebrate her... Unfortunately when that week came along, I felt the weight of that day and what it meant and couldn't bring myself to do much. So - we settled on the idea of a balloon release. We wanted to send out cards attached to helium balloons that explained who Lila was and how much she meant to us. It ended up being a rainy, cold and very dark November day- which fit my mood. I made it through the whole day with strength and quite peace, but by 6pm when Josh came home- the dam broke and I flooded the house with tears. (I received a catalog in the mail the previous week "Celebrating Your Baby's First Birthday". Not the proper publication for a mom who has lost a child, but to receive it the week before was just opening the wound on an altogether bigger scale.) So, after sitting down in our bathroom, in the dark, and just letting it OUT alone- I hit my knees and begged God to help me. I told him there was no way I could handle it without Him. Josh came in after this and had a good talk with me, sharing his favorite memories of Lila and telling me that we would make it through this. And he was right... God carried us through it and the days following weren't as difficult. I hate to admit that something as small as the weather could make the day worse- but it did. I wanted so much to honor her in a beautiful way- to release 86 balloons into the sky and watch them float peacefully upward- but the day wouldn't allow it. The balloons were getting splashed by big rain drops, shrinking because of the low temp, and barely rising above twenty feet. We had to keep catching them and throwing them back up. After about ten we quit, feeling defeated. The miracle and the amazing part of this day doesn't come to us until FIVE MONTHS LATER...
These pictures are of Lila's balloons struggling to take flight in the crazy wind and rain.

(If you decided to honor someone with a balloon release- make your message tags small, ours were weighing the balloons down because they were a half sheet size and were laminated.)
Here they are getting stuck in the tree because of a down draft, they did eventually let loose though. As you can see, it was not an ideal day for an event such as a release.
Despite the lousy weather, the balloons made it OUT OF STATE and we received correspondence in the mail saying, "I found this, this is amazing.. You have touched our family's heart... etc" One balloon was found by a man on EASTER Sunday which was awesome in itself. The balloons had sat through a Michigan winter, under snow, and the leftover scraps were found half a year later. This lifted my heart and put a smile on my face. I was grateful that even a nasty day couldn't stop our little one's memory from being shared. I was certain, as was the first receiver of a balloon, that God took it there. The first family who found one had gone through their own big

tragedy

the year before and it really meant something to them when they found our message in their yard during spring clean up.


We added a page to Lila's website for the photos from that day and to log the balloons found- if you'd like to visit it- click HERE.

************************
Q: What do you do to honor your child's memory on their birthday? Maybe you do something with family, or maybe you find it best to keep the day low key and quiet? Either way, we'd love to hear - feel free to share as much (or as little) as you'd like.

For parents who have yet to reach this first milestone, we realize how difficult this day can be. We've been there too. Just remember, there is no right or wrong way to handle such a difficult day, and we encourage you to just do what you feel is best in your heart. If you'd like to talk, we are here for you! - You are not alone, so please reach out if you need it.